The site itself, the low mound at the back of the picture, is not very impressive at first glance. Yet, Berenike was the major Egyptian seaport for trade to Arabia, Africa and India.
This shot looks over one of the trenches to the Red Sea. The sea has now retreated rather far from the ancient port.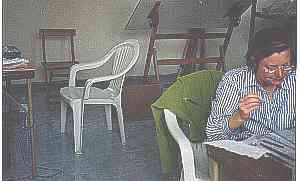 The "bead room," actually the second one. I worked with my laptop (solar power) at the empty desk. Christina Helms primarily translated notes and receipts on ostraca, pieces of pottery used as scrap paper.