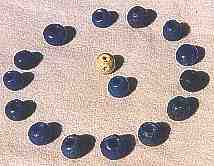 1. "Based on my research and decades of experience in the field there is no question whatsoever that these distinctive beads were among those used to buy Manhattan," the donor was quoted as saying. He said they were, "easily identifiable because of their size, material, wound-glass production technique, rich color, age and Dutch style." He was sure they were made by Jansz Carel.
2. As proof of their origin, he reported that he had bought them from a dealer in New York. Additionally, they were strung on buckskin and for documentation he cited, "a famous sculpture on a flagpole in lower Manhattan ... and numerous other paintings and drawings...."
3. Unfortunately, New York dealers, flagpoles and a buckskin thong (which can be bought today) do not add up to proof. Jan Jansz Carel owned a bead factory, but did not run it. Beads were made in Holland in the 17th century, but wound beads were not made until the 18th. These beads are called "Dutch" (also "Dogon") by collectors, but could have been made in any of several European countries.