Your path =Home>Trade Beads>Bohemia > Tour
Margaretologist 9(2) Issue 22 1996
The Czech Glass Bead Industry Today
Part 6 of 6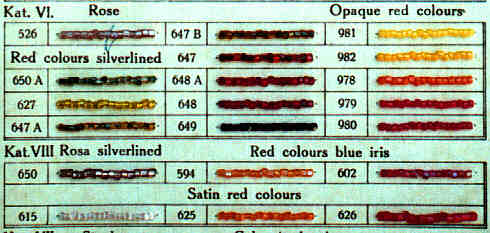 Figure Eight -- Glass beads remain an important part of the local economy,
especially the old stand-by, seed beads. Jablonex sample card, 1950s.
Picture Credits:
Jablonex (no date) Jablonex: Jablonec nad Nisou. (Figure 6)
Kreis Jablonec nad Nisou 1988 Kreisnationalausschuß and Propaga‡ni tvorba:
Jablonec n. Nisou and Prague. (Figures 1 - 4) Scheybalová, Jana, Josef V. Scheybal
and Bohumil Jakoub" 1995

Region Around the Jizera Jakoub" : Jablonec nad Nisou. (Figures 5 - 6)
Very interesting work on the history of glass in the region. I shall try to import it.
Figure 8 -- Center for Bead Research.
__________________________________________________
Small Bead Businesses | Beading & Beadwork | Ancient Beads | Trade Beads
Beadmaking & Materials | Bead Uses | Researching Beads | Beads and People
Center for Bead Research | Book Store | Free Store | Bead Bazaar
Shopping Mall | The Bead Auction | Galleries | People | Events
The Bead Site Home | Chat Line | Contact Us | Site Search Engine | FAQ