Your path =Home> Bead Research > Featured Museums >Philippines
Featured Museum 1
The National Museum of the Philippines, Manila
The Philippines is a most interesting place. It is the only Catholic state in Asia. It was the only American Asian colony. It was one of the earliest colonies to receive independence.
It is the home of "People Power." It is one of Asia's next Economic Tigers.
It remains a developing nation.

The front of the building that houses the National Museum across P. Burgos Street.
The fourth floor most visible in this picture is the Senate of the Philippines
Its National Museum reflects all that. Built under the Americans as the Executive Office Building, the museum proper shares its space with the courts and jail of Manila and the Senate of the Republic. The foundations of its ethnographic collection date back to the St. Louis World's Fair of 1904. Its guiding light for years was an American who fell in love with the archipelago while serving in the US Navy during World War II.
Its importance to bead studies cannot be minimized. The Type Collection of Beads from Archaeological Sites is unique in the world. With it, the story of beads for 3000 years in this island republic has been reconstructed. The Museum houses more than just beads.
The waters around the Philippines and the flora and fauna of the islands are indescribably rich. So is the human story of the native people. When I was there in 1995 they bought a whale skeleton they had no room for at all. Expansion plans are underway.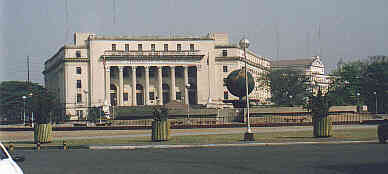 The east end of Rizal Park (Luneta) looking north. The National Museum's building is in the background. In the foreground is the Treasury Building, slated to give up two floors to the National Museum. The globe is in the middle of a skating rink.
The Type Collection of Beads in the Philippine National Museum
Related plates are available from here.
_______________________________________
Small Bead Businesses| Beading & Beadwork | Ancient Beads | Trade Beads
Beadmaking & Materials | Bead Uses | Researching Beads | Beads and People
Center for Bead Research | Book Store | Free Store | Bead Bazaar
Shopping Mall | The Bead Auction | Galleries | People | Events
The Bead Site Home | Chat Line | Contact Us | Site Search Engine| FAQ