Your path =Home>Uses of Beads>Religion and Amulets > Charms
Lucky Charms
Advertising cards issued by W.G. & H. O. Wills of Bristol & London 1923.
Page 4 of 5.
Part Four: Roman and Etruscan Charms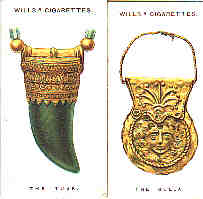 Cards 33 and 32
Etruscan Charms
The Etruscans of northern Italy preceded the Romans and lent many of their cultural elements to them. The tusk, this one carved from basalt with a golden cap, was another variation on the hand motive for warding off attacks from the Evil Eye.
The bulla, usually of metal and often containing a written charm, was very popular, especially for boys, in Etruscan and Roman times. Its round shape and the typical motif of snake hair also served to defend against the Evil Eye.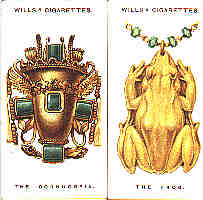 Cards 34 and 35
Roman Charms
The cornucopia, the "Horn of Plenty" represents the horn Amalthea used to feed milk to Jupiter. He later blessed it so it would give her anything she wanted. This one is most gaudily decorated.
The frog symbolizes the Goddess of Love in many old Mediterranean cultures. In the case of Rome, she is Venus. This amulet was carved from amber. Only in Roman times did Europeans realize where amber came from and what it really was. This was despite some 2000 years of export from the Baltic region to the south.
Last Gallery Page Next Gallery Page
__________________________________________________
Small Bead Businesses | Beading & Beadwork | Ancient Beads | Trade Beads
Beadmaking & Materials | Bead Uses | Researching Beads | Beads and People
Center for Bead Research | Book Store | Free Store | Bead Bazaar
Shopping Mall | The Bead Auction | Galleries | People | Events
The Bead Site Home | Chat Line | Contact Us | Site Search Engine | FAQ