The Bead Site =Home>Ancient Beads> India > Roman Maps 5
Roman Maps and the Concept of Indian Gems
Gallery Tour, page 5 of 6.
Figure Five: And what of the famous Arikamedu?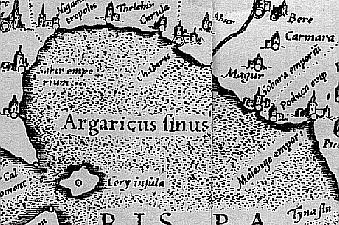 Poduca emporium (Arikamedu-Virampattinam) Right center.
Cape Comorin and the Jaffna Peninsula. Lower left.
Arikamedu (the archaeological name) and Virampattinum (the modern village and nearly the ancient name) were known as Poduca or something similar to the Greeks and Romans. We know now that it was a major beadmaking center for millennia, using both glass (Indo-Pacific beads) and stones as raw materials. The glass beads and agate cameo blanks are found in some numbers in the principal Roman Red Sea Port of BerenicÚ, Egypt.
Yet the site, though designated an "emporium" (where Roman traders lived outside the Empire), is not linked to any other south Indian place. In fact, the link via the Cauvery River to Urayur (the ancient Chola capital; modern Tiruchchirappalli) and thence to Karur, Kodumanal and Muziris were demonstrably strong. None of this shows up in Ptolemy's scheme of India. The complex internal trade routes that made South India "Treasure Chest to the World" were invisible to the Romans.
All images of the Ptolemy map were taken from Asiae X Tab: -- Ptolmey's Map of India. Government Photozincographic Office, Poona, India1880.
Last Gallery Page Next Gallery Page
__________________________________________________
Small Bead Businesses| Beading & Beadwork | Ancient Beads | Trade Beads
Beadmaking & Materials | Bead Uses | Researching Beads | Beads and People
Center for Bead Research | Book Store | Free Store | Bead Bazaar
Shopping Mall | The Bead Auction | Galleries | People | Events
The Bead Site Home | Chat Line | Contact Us | Site Search Engine| FAQ