The Bead Site =Home>Ancient Beads> India > Roman Maps 6
Roman Maps and the Concept of Indian Gems
Gallery Tour, page 6 of 6.
Figure Six: A century after Ptolemy, the Peutinger Table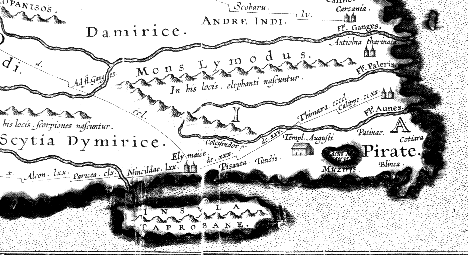 Ganges River (Upper Right);Muziris (Lower Right); Scythia (Lower Left); Taprobane (Sri Lanka) Island at Bottom
Produced around AD 300, this is the most detailed map we have of this part of the world after Ptolemy (and we don't have any of his originals) until the Middle Ages. We really don't know how accurately it represented late Roman geographic conventions. The view above shows only about 2% of the total map (Italy makes up about 40%), yet is supposed to show most of Central and all of South Asia. Actually, if turned 45O it would do too badly for a map of India, with the Ganges flowing eastward, though Sri Lanka would have to be repositioned.
In any case, a lot has been lost since Ptolemy. He at least knew of the Malay Peninsula and China. Neither is hinted at here. Ptolemy was also much more detailed. This map has no hint of the western agate bead industry.
What is really interesting here is the centrality of Muziris. It is marked with a big red circle. It is, indeed, the most important city east of Antioch. Yet it is not connected to anything in the interior, much less across the peninsula. To the left of Muziris is an "Augustinian temple." Many have taken this to be an old Roman structure. But that would seem odd on this decidedly Christian map. I think it is a temple of Agasitya, the Patron Saint of South India. I think some Westerner just heard it wrong.
Image taken from De Tabula Peutingeriana de kaart, Museumstukken II (edited by A.M. Gerhartl-Witteveen and P. Stuart) 1993 Museum Kam, Nijmegan, the Netherlands.
__________________________________________________
Small Bead Businesses| Beading & Beadwork | Ancient Beads | Trade Beads
Beadmaking & Materials | Bead Uses | Researching Beads | Beads and People
Center for Bead Research | Book Store | Free Store | Bead Bazaar
Shopping Mall | The Bead Auction | Galleries | People | Events
The Bead Site Home | Chat Line | Contact Us | Site Search Engine| FAQ