The Bead Site =Home>Ancient Beads> India > Roman Maps 2
Roman Maps and the Concept of Indian Gems
Gallery Tour, page 2 of 6.
Figure Two: Hiding the Gems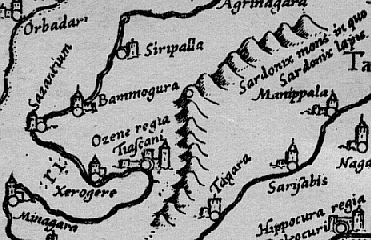 Sardonyx Mountains in which (are) sardonyx stones Upper right
Ozene regia (Ujjain, the capital) Lower center
Past Ujjain Ptolemy reports on a range of mountains. At its northernmost end he locates the "Sardonyx Mountains." Actually the stones for sardonyx (a form of onyx) were and are mined not from a mountain but from the old courses of the Narmada. The most consistent center of this activity has been Ratanpur ("Village of Gems"), which is visible across the river from Broach. But here, the source of the gemstones are put way up the meandering river (it actually flows quite straight) and at the end of a mountain chain.
Was Ptolemy just wrong or was something else going on? What if the Romans knew that they could sail across the river from Broach and buy the raw stones dirt cheap from the tribal people who were actually extracting them? Would the price for these stones not fall?
Did Indians misinform the Romans that the stones came from far, far up the river at the end of an almost inaccessible mountain range? After all, the Romans believed stories about gold-digging ants and diamonds retrieved by throwing raw meat into a valley.

The diamonds were gathered from eagles' nests, the eagles being the only ones capable of entering the valley.
Did this happen more than once? See the next page.
Last Gallery PageNext Gallery Page
__________________________________________________
Small Bead Businesses | Beading & Beadwork | Ancient Beads | Trade Beads
Beadmaking & Materials | Bead Uses | Researching Beads | Beads and People
Center for Bead Research | Book Store | Free Store | Bead Bazaar
Shopping Mall | The Bead Auction | Galleries | People | Events
The Bead Site Home | Chat Line | Contact Us | Site Search Engine | FAQ